Family on the Fringe of the Revolution
By SHERRY THOMAS
Copyright 2000 Houston Chronicle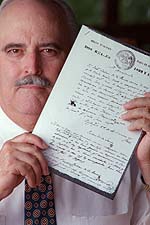 Smiley N. Pool / Chronicle
José Guerra Jr., president of the Hispanic Genealogy Society, has traced some of his ancestors to the 17th century. His relatives include colonels in the Mexican army and fighters for the Mexican revolution.
IMAGINE a Gulf of Mexico wind in June. A raven-haired woman, eight months pregnant, waiting for her husband to return.
Maria Leonor Benavides probably was not worried. It was 1836, and José Julian de la Garza was out tending cattle on their rancho. Even with help, there was much work to be done. Their Mexican Land Grant property on the Rio Nueces stretched for miles across the plains to Odom and then on to Corpus Christi, a winding vista of cattle and creeks in what is now San Patricio County.
This is where Don José Julian would spend his final hours, perhaps thinking of the summer to come and of the kicking niño in his wife's belly.
Or of that bloody night in February when Mexican Gen. José Urrea and his dragoons ambushed a dozen men guarding horses on his land. It was about 3 a.m., and rainy. His brother-in-law, Placido Benavides, had gone ahead to La Bahía to warn the Texans of Urrea's approach. Meanwhile in San Patricio, 16 people were killed and 24 were taken prisoner as Mexican forces marched up the coast to defeat Col. James W. Fannin and his men at Goliad.
It was calmer now. Perhaps too calm.
So quiet, perhaps, that he did not see the Comanches approaching on horseback who, according to historical records, would kill him that day on the rancho.
One month later in Victoria, on July 17, 1836, Maria died in childbirth. Alejo de la Garza entered the world an orphan.
"In my own search, I wondered what might happen to a baby when both of his parents are dead and you have Anglo families retaliating," said José Oscar Guerra Jr., president of Houston's Hispanic Genealogy Society and de la Garza's great-great-grandson.
"All the people who had cattle and land grants ... , they started taking away their land and killing them."
Guerra has been researching his family's roots for six years, but he still doesn't know exactly how Alejo lived as a child and young adult. Details of his life are speculation, assumptions based on Guerra's scouring of pages of history. But clues continue to fall into place.
Some of Guerra's ancestors -- including many of the original settlers of Victoria -- fled to Louisiana. Others went home to Camargo, Mexico, where de la Garzas had been living since the early 1700s.
Through Texas land records, Guerra knew that de la Garza made it to adulthood, married and became a substantial landholder in present-day Duvall County. But it wasn't until he talked to a Texas historian one day that he uncovered the rest of the story.
"I said, `Do you know anything about Alejo?' "
He finally got his answer: "One of my ancestors, Julian's brother, went to Victoria and brought him back to Camargo, Mexico," Guerra said. "And so he was raised there."
In 1857, de la Garza married Maria Macedonia Palacios. Ten years later, Amado de la Garza was born in Concepción. Amado married Maria Gutierrez Pena in 1889. One year later, Alicia de la Garza was born in Pena. She married Maximo Perez from Concepción. They were Guerra's maternal grandparents.
Guerra's parents, Alicia Irene Perez Guerra and José Oscar Guerra, built a family lumber business in northwest Houston. The younger Guerra runs the company with his father at the helm.
So far, the Guerra family tree reaches back 10 generations
It shows how the name Garzia evolved into Garcia, and that a Clara Guerra was born on his mother's side in 1667.
He knows now that roots don't always branch out. Sometimes they touch; sometimes they come around again.
Genealogist's stories add texture to American heritage By SHERRY THOMAS Copyright 2000 Houston Chronicle
"People will not look forward to posterity who never look backward to their ancestors." -- Edmund Burke, Reflections on the Revolution in France (1790)
They are the forgotten ones. Grandparents and aunts and great-great-uncles. Distant cousins from distant lands. Immigrants, soldiers and entrepreneurs. Farmers and laborers, housewives and mothers.
People like the ones profiled on these pages. People who lived, worked and struggled through some of this country's most difficult and triumphant times and then vanished without a trace. Memories lost; stories left untold.
People such as Eleanor Caldwell's great-grandmother, Sarah Hardy, born into slavery on the Alabama rice farm where she would later raise a family with the white son of the plantation owner.
Or Bobby Joe Moon's ancestors, the Joe brothers from China, who built businesses from nothing in the Mississippi Delta. Or Alejo de la Garza, one of 10 generations of ancestors researched by Jose Oscar Guerra Jr. Orphaned during the Texas War of Independence, Alejo was rescued by relatives to Mexico in 1836 -- only to return to Texas in the 1850s and buy 18,000 ranching acres.
Genealogy is more than a sentimental journey. It is an expedition through the dates and events of American history and the stories of ordinary people who lived through extraordinary times.
Together, family tree by family tree, genealogists are rewriting history.
Eric Walther, an associate professor of history at the University of Houston and the founder of the Texas Slavery Project, an initiative to document every slave in Texas, said genealogy teaches us not only that every human being is important, but also that every human being has a story worth telling.
Some might call it revisionism. Yet look at what's missing from history books.
Women. People of color. The working classes, and the poor.
Will historians fill these gaps? Or will it take thousands of steadfast genealogists, digging into old family records, to write the untold stories of this country's past? "For decades, there's been a field within history called social history, and within the last several decades, it's been called new social history -- basically an approach to history from the bottom up," Walther said. "But genealogists have been looking at the lives of ordinary people long before historians focused their efforts on them."
Guerra, a Houston genealogy buff, has made important connections between his family and the Texas War of Independence. "My mother always told me one of her ancestors was Placido Benavides, a character who is written about in early Texas history from 1836," said Guerra, president of the Houston Hispanic Genealogy Society and vice president of the family lumber business, Olsen-Guerra. But even Guerra was surprised by the tales he discovered. Easily enough, he found Placido -- a brother, he believes, to his great-great-great-grandmother, Maria Leonor Benavides. But Guerra wanted more. He kept reading, kept digging, and learned that his long-lost "uncle" Placido, a wealthy founding father of Victoria, chose his allies wisely.
"He was a Mexican when it was convenient," said Guerra, amused by his ancestor's political savvy, "and he was a Texan when it was convenient." In February 1836, in one battle of the Texas War of Independence, Benavides was a Texan. "He was kind of the Paul Revere of Texas," Guerra said.
Fighting under the command of Dr. James M. Grant, Benavides escaped butchery by Mexican forces near Matamoros and was sent ahead to warn Col. James W. Fannin of the approach of Mexican Gen. Jose Urrea. "You hear of early historical figures, and you hear about them in school, because Texas children have to take Texas history. Then you come to realize that your ancestors were there during all these important skirmishes and were actually heroes, possibly, to both sides," Guerra said.
Uncovering family history, however, can be more bitter than sweet. For African-Americans, it is almost always linked to slavery, a chapter of American history that many would like to forget.
"Seems like all the men in the family had to leave Alabama because of a confrontation with Caucasian people," said Eleanor Caldwell, president and founder of the African-American Genealogy Society of Houston. Caldwell's family history illustrates the triumphs and tragedies of a nation's struggle toward freedom and equality. Her great-grandmother, Hardy, was born a slave in 1865. Her great-grandfather, William Henry Holmes, was the son of the white plantation owner. They defied society by living together and raising their six children.
But life would not be easy for the generations to come. Bill Holmes, Caldwell said, sent his sons away from Alabama, to points farther north, to escape racial tensions in rural Lowndes County. "He had to get them out of there so they wouldn't get killed or hung or in any kind of trouble," said Caldwell, who got out of Alabama as well. In 1955, she received a business degree from Xavier University in New Orleans, and never returned.
Allen Grundy, former academic adviser at Texas Southern University and the founder of a genealogy project there, said it's more important than ever to pass this kind of unwritten African-American history down to the next generation. In the TSU project, Grundy used genealogy as a hands-on approach to history. "If you don't know where you come from, and if it shows its head again, whether it's slavery or racism, you won't be able to recognize it," said Grundy, vice president of a nonprofit organization called Talking Back Living History In the old days, Grundy said, grandparents and great-grandparents passed stories down. But with today's families so scattered, many children aren't exposed to their history.
"We read biographies and bibliographies of really famous people, but basically it's just nice to know your own family history, too," said Manuel Flores, a founding member of Houston's Hispanic Genealogy Society." For as much as roots separate and divide, they also link families with an impenetrable bond. "Genealogy is not about digging up the past. It's about finding present relatives," said Marje Harris, executive director of the Clayton Library for Genealogical Research, a division of the Houston Public Library system. "Those people -- your ancestors -- they all had a part in who you are right now. So it's not just the research. Genealogy is finding out about yourself."
Such was the case with Moon, whose quest was less about names than about places. Moon, manager of auditing for Metro, already had a family tree going back 10 generations -- a rumpled facsimile copy of faded script and Chinese writing. For 17 years he carried it around. He figures now it was his destiny to return to his father's homeland. "I'm a miracle, right?" said Moon, the son of Chinese immigrant J.G. Moon. "The fact that my father got his family out in 1939?" He never thought much about his father's decisions, the chronology of his family's emigration. In recent months, Moon's journey into his family history and a May trip to China has deepened his appreciation for the sacrifices his father made for his children. "My father saw World War II coming," packed up his family in 1939 and brought them from South China to Cleveland, Miss., Moon said. "He knew it was time to go."
The first step in any genealogy search is to tap the living -- before you go digging up the dead. "When you're looking for people, what do you look for?" said Harris. "Flesh and blood." Talk to your grandparents, your parents -- even older aunts and uncles. Ask detailed questions, and write down everything. And then there's statistical averaging. Say your mother was born in 1939, and you know her mother was about 20 when she had her, you can safely deduce that your grandmother was born around 1919. Harris said this kind of educated guesswork can point you in the right direction.
"My father was a wealth of information because he was always interested in his ancestors," Guerra said. "He told me his father's name was Jose, and his father's name was Jose "The only problem in Hispanic genealogy is, Jose and Maria are almost like prefixes. Because people are named Jose Juan Guerra or Maria (so-and-so) Guerra." Understanding names and their order is just one of the challenges of Hispanic genealogy. The good news is, many Texans of Latino heritage don't have to go far to find their heritage. Many were born here, as were their parents, and their parents, and so on.
Keep in mind that names may have been changed over the years. Like European immigrants whose names were altered when they passed through Ellis Island, other ethnic groups took on new identities for a variety of reasons. Moon's father, for example, entered this country as a "paper son," on purchased identity papers. Luckily, Moon knew the story.
Flores, however, had no idea his father had changed his name. "His brother worked for the railroad and got into an argument with a foreman," said Flores, whose father was born in Mexico as Alfredo Pescina. "So my uncle says, `When you go to work for the railroad, don't tell him you're a Pescina.' So he told him he was Flores." And so the stories emerge. Like pieces of a puzzle, they fall together, providing a more complete picture of the American past than we've ever seen before. Walther said he hopes the recent unprecedented interest in genealogy, combined with access to records through the Internet, will spawn a partnership between historians and genealogists.
The mission: to tell the whole story. Guerra believes it might already be happening. "During the War of 1812, when Andrew Jackson was fighting the English, Mexican rancheros were supplying horses and beef to the American side," he said. "Now, the important Daughters of the American Revolution are awarding membership to the ancestors of these families. It wasn't recognized before, but they're realizing now what important parts these people played."