Descendants of: Diego Gutierres
<![if !supportMisalignedRows]>
<![endif]> <![if !supportMisalignedRows]>
<![endif]>
September 13, 1889, Maria Gutierrez married Amado de la Garza and the picture shows the Gutierrez family celebrating the marriage with a picture. Maria Gutierrez is pictured on the left side, front row with her husband behind her. Pilar Pena is the mother of all of the children pictured above and she is seated in the middle. Pilar Gutierrez is standing at the far left side and she will marry F. B. Guerra of Hebbronville, Brownsville and later Matamoros, Tamaulipas Mexico. The father of the children is Manuel Gutierrez ( born June 17, 1848 and married August 11, 1871) and he is believed to have passed away by this time. Also pictured in the photo are Antonio Felix, Fantina, Manuela, Manuel and Cruz Gutierrez siblings to Maria and Pilar.
Leonor De la Garza ( Amado's sister) is seated with a hat in her lap to the right of Pilar Pena.
Times will be tough in Hebbronville for this family but Mother Pilar Pena will provide for her family by having a rooming house after the death of her husband. Information on the earlier Gutierrez family ancestors is very intriguing and a study of those ancestors leaves the author with many questions to be answered.
Cruz Gutierrez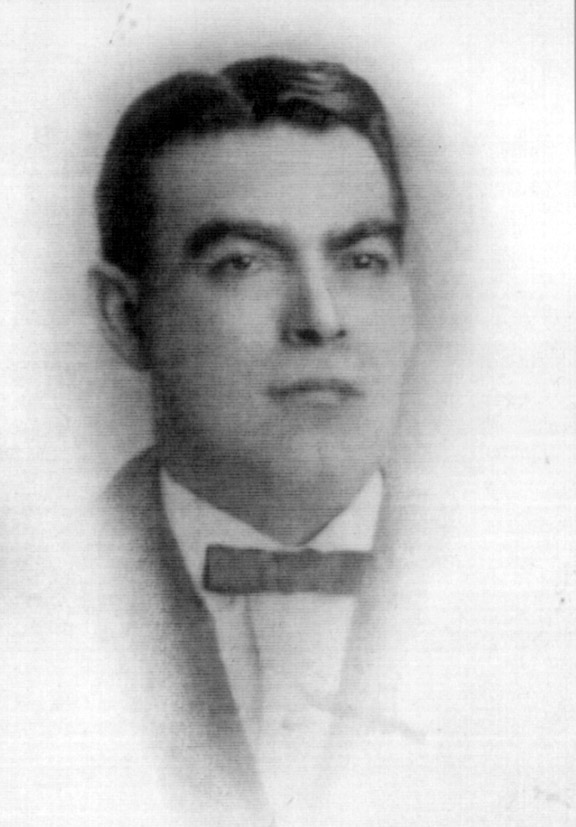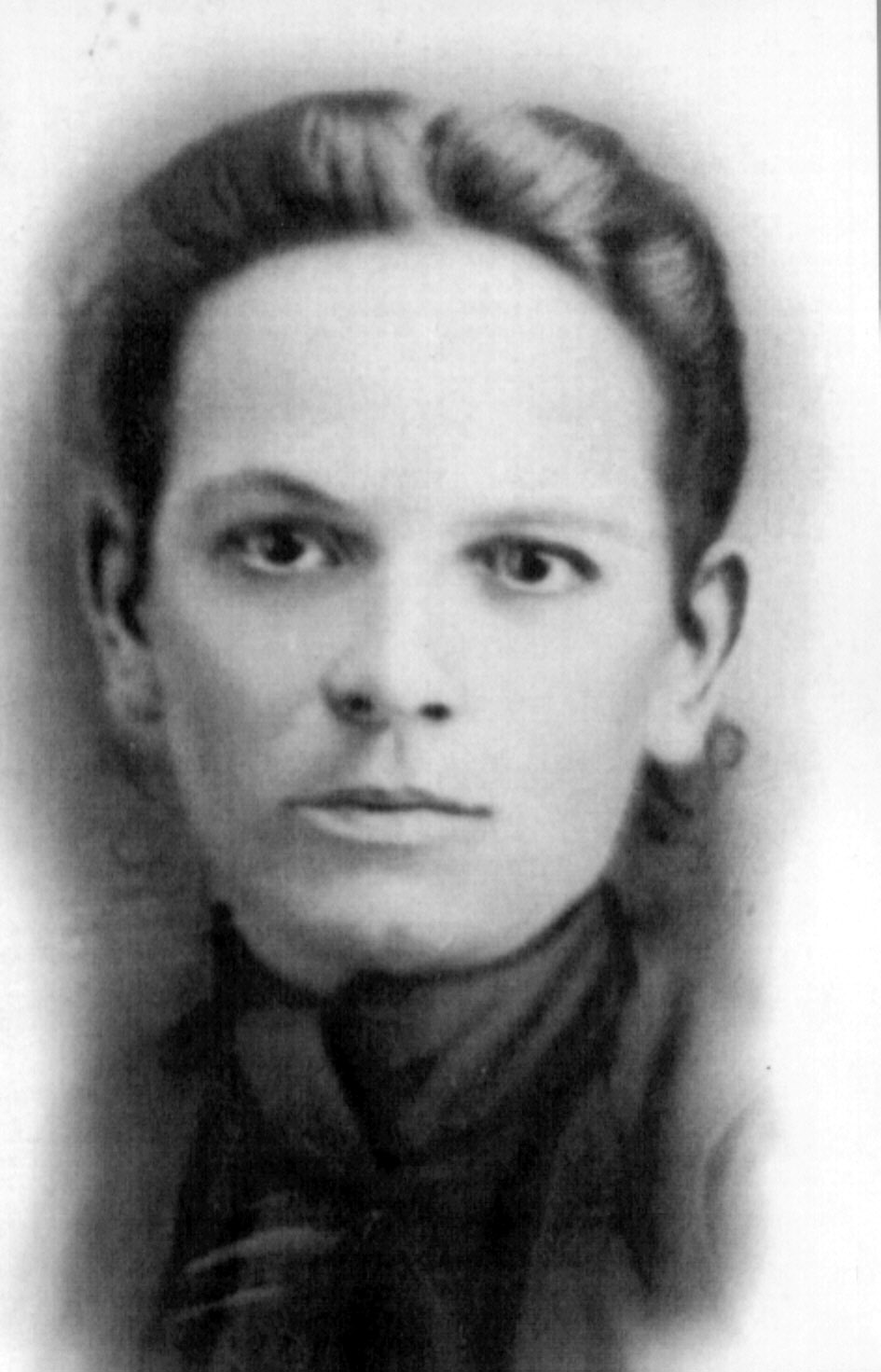 Cruz Gutierrez Rosa Laulom Crixell
The eldest son of Manuel Gutierrez and Pilar Pena, Cruz Gutierrez married Rosa Laulom Crixell. Cruz moved to Corpus Christi, Texas and raised his family. Thanks to his descendants who have contributed his data, pictures and stories on Cruz and his wife, these wonderful pictures are posted on this webpage. Sharing of data is very important to discovering our ancestors. The children of Cruz and Rosa have been added to the descendants list below.
---

Earlier Ancestors
The marriage investigation submitted to the Bishop in Gudalajara on April 30 1773 from Villa de San Gregorio de Zerralvo by Jose Julian Gutierrez states that he is son of Diego Joseph Gutierrez and Ygnacia Maldonado and names Diego Gutierres as his paternal grandfather. In the investigation which is listed on page 159 (#96-1) of Index to the Marrriage Investigations of the Diocese of Guadalajara,, (Raul J. Guerra, Jr., Nadine M. Vasquez and Baldomero Vela, Jr), Julian also says that he was first married to Francisca Xaviera Garcia and widowed. He is seeking a marriage to Anna Getrudis Chapa, (adopted daughter) of Capitan Don Joseph Florencio de Chapa and Dona Margarita de Pena. Another book, First Book of Mier Marriages, 1767-1805, page # 6, has Anna Gertrudis Chapa as hija legitma of Joseph Florencio de Chapa and Margarita de la Pena. One is made to wonder whether she is adopted or not? The couple later marries in the Poblacion de Cantaro which becomes Villa de Mier, on March 23, 1772 and the dispensation date is in April of 1773 which tells us that it was filed after the marriage.
The first marriage of Joseph Julian to Francisca Xaviera Garcia must have provided the births of Diego Jose Gutierrez in 1761 and Jose Vicente Gutierrez in 1764. My maternal line derives from Jose Vicente Gutierrez who later marries Maria Ana Hinojosa. It has not been determined who her parents are but the Hinojosa name might provide us with the answer somewhere in all the research done on Hinojosa. I have seen a family tree that does name them but it is unproven at this time to the author. If we look closer maybe it will be found.
The marriage investigation also reveals that the grandfather, Diego Gutierres, is possibly half brother to Margarita Gutierrez whose father is named Diego Gutierrez and the mother is not revealed. This Diego Gutierrez de Castro is possibly the son of Melchor Gutierrez de Castro and Isabel de Lara. There are other brothers to Diego Gutierrez de Castro and a family group sheet is included in this article on the marriages of Diego to Juana de Ayala (daughter of General Diego de Ayala and Ana de Ovalle) and later to Gertrudis Flores (daughter of Pedro Flores de Abrego and Margarita de la Garza.
In further research it has been brought to my attention that Melchor Gutierrez de Castro and Isabel Lara marriage provides some children that carry the name Gutierrez de Castro and many others carry the Gutierrez de Lara name. I have been told but yet to see documents to prove that this latter family goes to Salinas and later on the Revilla, Tamaulipas. Our research below does not carry Melchor Gutierrez and Isabel de Lara. Any help from our readers to prove or disprove this fact would be greatly appreciated. Our address and email details are provided later in this article.
The start of our Gutierrez data starts with the Diego Gutierres who is son of Diego Gutierrez and at this time an unknown Mother. I wish to thank the following persons who provided me with data for this article:
Virginia de la Zerda San Antonio, TX
George de la Garza Dallas, TX
Raul Guerra San Antonio, TX
Joel Rene Escobar Pharr, TX
Aida Smith, Corpus Christi, TX
Earlene Caldwell, Corpus Christi, TX
The following is a descendant list compiled from Mier, Tamaulipas church records viewed and extracted from the Mormon Church, Family History Centers records.
Diego Gutierres
* Diego Joseph Gutierrez m. Ygnacia Maldonado
* Joseph Julian Gutierrez m. Francisca Javiera Garcia d. 11 Oct 1770
m. 23 Mar 1772 Anna Gertrudis Chapa
* Diego Jose Gutierrez b. 17 Nov 1761
* Jose Vicente Gutierrez b. 13 Sep 1764 m. 24 Oct 1786 Maria Ana Hinojosa
* Juan Francisco Gutierrez b. 25 Sep 1787 m. 03 May 1809 Maria Lucia Bazan b. 1793
* Jose Ignacio Gutierrez b. 1796? m. 29 Jul 1816 Maria Tomasa Vela b. 26 Dec 1800
* Jose Leonardo Gutierrez b. 09 Nov 1817
* Jose Antonio Gutierrez b. 13 Nov 1818
* Maria Isabel Gutierrez b. 22 Nov 1820
* Jose Cervacio Gutierrez b. 04 Nov 1822
* Jose Felipe Gutierrez b. 03 Jun 1825 m. 06 Aug 1845 Maria de San Juana Alanis
* Maria Francisca Gutierrez b. 19 Jan 1846
* Jose Encarnacion Gutierrez b. 29 Mar 1847 d. 30 Mar 1847
* Jose Manuel Gutierrez b. 17 Jun 1848 m. 11 Aug 1871 Pilar Pena
* Cruz Gutierrez b. 01 May 1869 d. 06 Jan 1937 m. Rosa Laulom Crixell b. 28 Nov 1884 d. 01 Jan 1954
* Elisa Gutierrez b. 14 Jul 1895 d. Mar 1982 m. H. Ross Garza b. 1903 d. 1984
* Cruz Gutierrez, Jr. b. 1896 d. 1952 m. Angelita Mircovich b. 1895 d. 1958
* Rosa Gutierrez b. 30 Aug 1899 d. 22 Feb 1980 m. Gabriel C. Llanas b. 09 Apr 1894 d. 21 Jun 1974
* Maria de Pilar Gutierrez b. 10 Mar 1902 d. 22 Jun 1981 m. Manuel Garcia b. 30 Nov 1898 d. 14 Mar 1931
* Ernesto Gutierrez b. 10 Apr 1904 d. 31 Oct 1991 m. Josefina Tamayo
* Elizardo Gutierrez b. 12 Feb 1906 d. 30 May 1906
* Emilio Gutierrez b. 1905 d. 15 Apr 1995 m. Amelia Puig, m. Merle
* Antonio Felix Gutierrez b. 18 Aug 1872 d. unknown
* Maria Gutierrez Pena b. 14 Feb 1874 d. 1932 m. 13 Sep 1889 Amado de la Garza b.13 Sep 1867 d. 10 Mar 1943
* Alicia de la Garza b. 06 Sep 1890 d. 15 Aug 1980 m. Maximo Perez b. 21 Nov 1891 d. 28 Feb 1940
* Severiana de la Garza b. Oct 1892 d. 1965
* Secundo de la Garza b. 30 Jan 1895 d. 30 Jun 1959 m. 17 Jan 1938 Celia Williams b. 23 Oct 1903 d. 26 May 1978
* Consuelo Merced de la Garza b. Jan 1897 m. Ernesto de la Garza
m. Gregorio Garza
* Lucinda de la Garza b. Oct 1899
* Maria Beatriz de la Garza b. 1905 m. Alvado Lopez
* Rudolfo de la Garza b. 1909
* Alejo de la Garza
* Maria Del Pilar Gutierrez b. 02 Mar 1876 m. Francisco Barrera Guerra b. 25 Feb 1865
* Amelia Barrera Guerra b. 19 Apr 1892 d. 25 Aug 1982 m. 15 Aug 1914 Rafael Ramirez b. 24 Oct 1882 d. 30 Jun 1930
* Virginia Barrera Guerra m. Edward Gaja Saunders
* Horacio Barrera Guerra m. Margarita Urias
* Servando Barrera Guerra
* Francisco Barrera Guerra Jr. m. Aurora Zertuche
* Manuel Barrera Guerra m. Bertha Benavides
* Lydia Isabel Barrera Guerra b. 1903 d. 07 Jul 1998 m. Agusto Onesimo Champion
* Aurora Barrera Guerra m. Louis F. Castro
* Fantina Gutierrez b. 22 Oct 1878 m. Hermenegildo de la Garza
                          * Lazaro de la Garza
                          * Jose Amado de la Garza
                          * Porfirio de la Garza
                          * Olivia de la Garza
                          * Antonio de la Garza
* Manuela Gutierrez b. 31 May 1879
* Manuel Gutierrez
* Maria Beatriz Gutierrez b. 21 Mar 1850
* Maria Junia Gutierrez b. 07 Jul 1851
* Maria Refugia Gutierrez b. 11 Jul 1851
* Maria Vicenta Gutierrez b. 26 Jul 1852
* Maria de los Santos Gutierrez b. 07 May 1853
* Jose Perfecto Gutierrez b. 17 Apr 1854
* Maria de los Angles Gutierrez b. 07 Oct 1856 m. 23 Apr 1887 Jose Felipe Barrera Hinojosa b. 29 Aug 1851
* Paula Barrera Gutierrez b. 1888 m. Arcadio Munoz
* Luis Barrera Gutierrez b. 27 Aug 1889
* Liberto Barrera Gutierrez b. 17 Aug 1890
* Candida Barrera Gutierrez b. 02 Oct 1891 m. Rafael Gomez
* Florentino Barrera Gutierrez b. 14 Mar 1893
* Virginia Barrera Gutierrez b. 23 Apr 1896 m. Fernando Jimenez
* Josefina Jimenez
* Maria Gloria Jimenez
* Maria de los Angles Jimenez
* Evangelina Jimenez
* Virginia Jimenez
* Herlinda Barrera Gutierrez b. 1899 d. 1899
* Cecilio Gutierrez b. 10 Dec 1858
* Jose Romulo Gutierrez b. 12 Mar 1861
* Maria Salome Gutierrez b. 27 Mar 1863
* Jose Maria Gutierrez b. 21 Aug 1864
* Jose Juan Gutierrez b. 03 Jan 1828 m. 30 Nov 1853 Maria Antonia Juarez
* Maria Felicitas Gutierrez b. 04 Oct 1854
* Jose Alejandro Gutierrez b. 23 May 1857
* Jose Francisco Gutierrez b. 26 May 1857
* Maria Hilaria Gutierrez b. 18 Jan 1830
* Maria Paula Gutierrez b. 23 Jan 1831
* Maria del Carmen Sabina Gutierrez b. 02 Jan 1834
* Jose Maria Gutierrez b. 20 Apr 1837
* Jose Braulio Gutierrez b. 02 Apr 1840
* Maria Encarnacion Gutierrez b. 05 Jan 1843 m. 24 Jan 1861 Luciano Garcia
* Jose Cecilio Gutierrez b. 06 Dec 1797
* Maria Andrea Gutierrez b. 12 Dec 1799 m. 08 Aug 1808 Jose Felipe de Jesus Gonzalez
* Jose Victoriano Gutierrez b. 18 Feb 1800
* Maria Juania Gutierrez b. 11 Feb 1801
* Maria Antonia Florencia Gutierrez b. 31 Oct 1802 m. 13 May 1819 Jose Antonio Sanchez
* Jose Francisco de Borjas Gutierrez b. 16 Oct 1805
* Maria Benita Gutierrez b. 20 Feb 1809
* Maria Basilia Fiburcia Gutierrez b. 22 Apr 1811
* Victor Juan Gutierrez b. 19 Jun 1813 m. 14 Dec 1839 Maria Juana Garza
* Maria Teresa Gutierrez b. 16 Oct 1765 m. 25 Nov 1783 Jose Andres Hinojosa
* Antonia Josefa Gutierrez b. 07 Jul 1769
* Antonia Margarita Gutierrez b. _____ d. 07 25 1763
* Nicolasa Gutierrez b. _____ d. 03 Jan 1779
Author: Jose O. Guerra, Jr.
Leave a Note To Join or Contact our organization