The Juan Ignacio Barrera Family of Mier, Tamaulipas Mexico
Juan Ignacio Barrera was one of the first persons that settled in Mier, Tamaulipas. He was raised in the house of Gaspar Garcia and Maria Gertrudis Barrera. His listing at his marriage to Maria Manuela Flores on the 10th of February of 1768, was the eighth recorded marriage from Mier's founding. His in-laws were Jose Diego Flores and Maria Luysa de Hinojosa. Juan Ignacio and Maria Manuela Flores had 11 children recorded in the Mier baptisms. They are as follows:
Jose Julian Barrera Pedro Jose Antonio Barrera
Jose Manuel Barrera Jose Maria Saturino Barrera
Jose Antonia Barrera Maria del Carmen Barrera
Maria Rita de Jesus Barrera Jose Narciso de Jesus Barrera
Maria Catarina Barrera Maria Guadalupe Barrera
Juan Jose Cristano Barrera
The fact that Juan Ignacio was raised in the house of Maria Gertrudis Barrera leads me to speculate that he must have been related somehow to her because of the similarity of the last name. This is yet to be proven but he was also listed as an hijo natural de Nicolasa Rodriguez. His birth year is arrived at because in a later census of Mier, it listed an age for him and his wife and the simple deduction lead to his birth year. At the marriage it also listed Juan Ignacio and Maria Manuela as both Espanoles. In the list of descendents the reader can find a grandson named Jose Manuel Guerra. This Jose Manuel was a political leader of early South Texas and can be found in the book Boss Rule of South Texas, by Evan Anders .
Jose Miguel Barrera was the Grand Uncle of Jose Manuel Guerra. Jose Manuel was related to Jose Miguel both paternally and maternally. Jose Miguel lived in Mier and was married 3 times. He owned wagons that carried freight that came up the river to Mier on boats very much like Captain Richard King and his partner, Mifflin Kenedy ran. During those times, the Rio Grande River or as it was called by the Mexican citizens, Rio Bravo, was high enough for short draft boats to navigate and carry goods. Cotton was carried down the river during the Civil War and it was not a slow, silt-laden river as it is known today. Jose Miguel lived in Mier and the house still stands today. The Barrera and the Guerra family inter-married many times as Jose Miguel's mother was a Guerra and his daughter Rafaela married her second cousin, Jose Esteban Guerra.
Jose Miguel Barrera, his daughter Maria Rafaela Barrera de Guerra, Jose Esteban Guerra
Eldest brother, Francisco Barrera Guerra and his wife, Maria Pilar Gutierrez
Rosendo Barrera Guerra, Headmaster at Colegio Altamirano
Enrique Barrera Guerra's Grave Site in Ciudad Mier, Tamaulipas, Mexico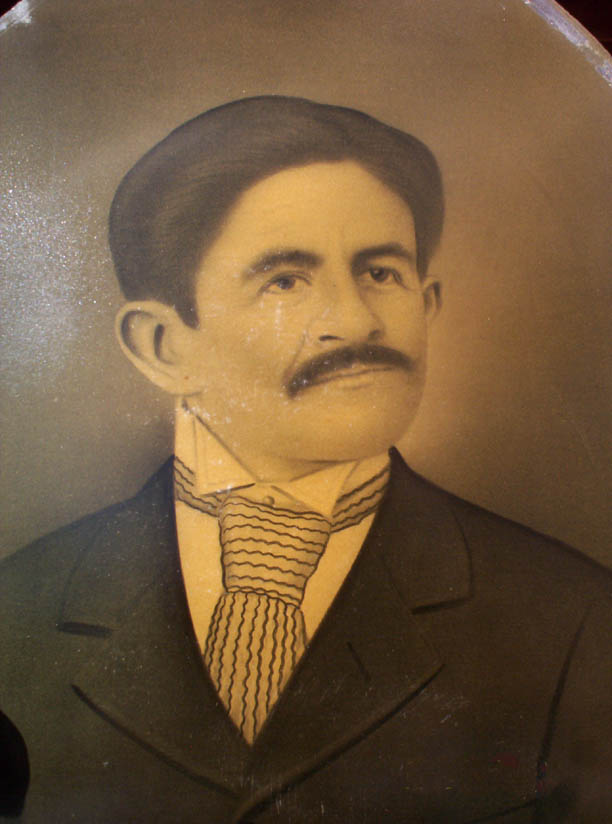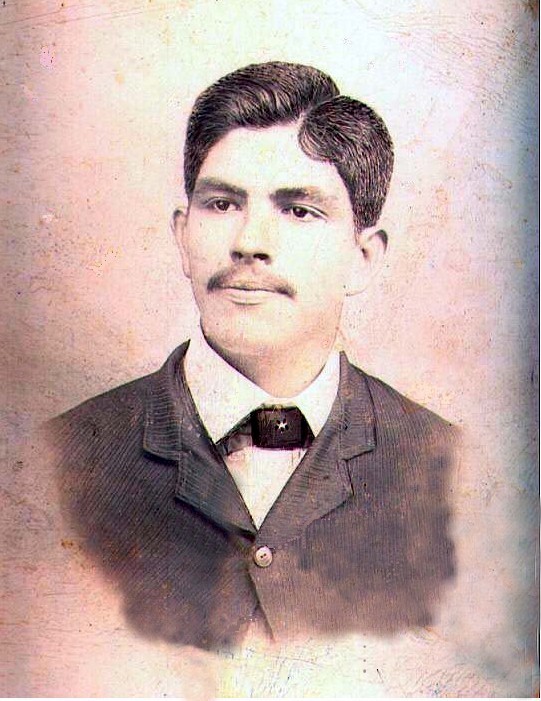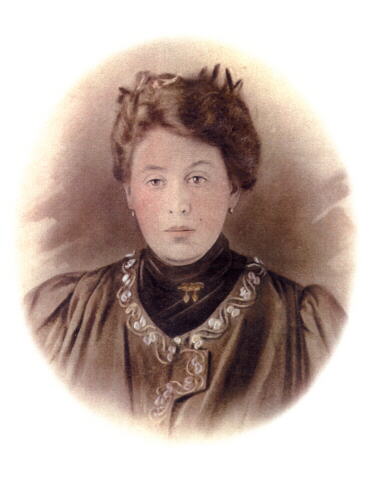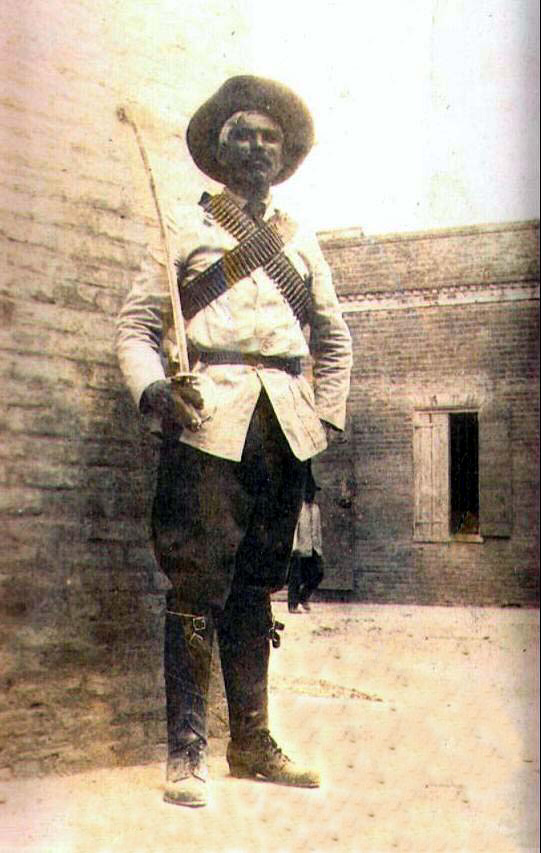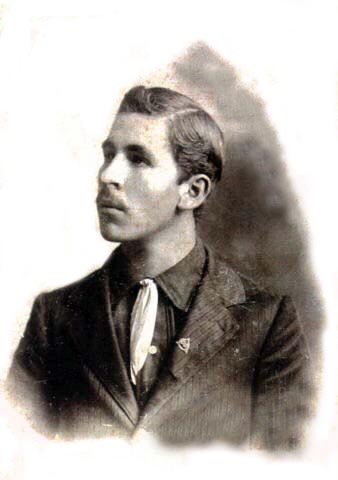 Rosendo Barrera Guerra, Enrique Barrera Guerra, Baudilia Hinojosa de Barrera, Miguel Barrera Guerra and Armando Barrera Guerra
Another son of Jose Miguel Barrera was Enrique Barrera Guerra who was a Colonel in the Mexican Army during the Revolution of 1910-1916. He fought with the troops of Carranza and was killed in the Ciudad Ocampo,Tamaulipas area. Pictured are photos, one as a young man, his wife and brother Miguel in an army uniform. Enrique's death left a widow and four small children. Enrique's brother, Lt. Colonel Miguel Barrera Guerra, was also killed in the Revolution fighting with Carranza. The last son of Jose Miguel Barrera and his third wife, Salome Guerra was Armando Barrera Guerra.
Miguel Barrera Guerra
Miguel Barrera was married a third time to Maria Salome Guerra, his wife's sister, and had Armando Barrera Guerra as mentioned above. His wife, Maria Salome was married previously to Jose Francisco Ignacio Barrera. Jose Francisco Ignacio was not related to Manuel Barrera. One of her sons with Jose Francisco Ignacio was named Federico Barrera. His wife was Maria Saldana and he had the following children.
Juanita Barrera
Hector Barrera
Isaura Barrera
America Barrera
Estella Barrera
Elmira Barrera
Four of Federico's daughters are shown on this link
---
Descendants of: Juan Ignacio Barrera
* Juan Ignacio Barrera b. 1750 d. 14 Sep 1810 m. 10 Feb 1768 Maria Manuela Flores b. 1750-1753
* Jose Julian Barrera b. 08 Mar 1769 m. 22 Nov 1796 Maria Antonia de la Garza
* Maria Gertrudis Maximina Barrera b. 27 Aug 1797 m. 5 May 1821 Jose Julian Flores
* Maria Petra Barrera b. 28 Oct 1798 m. 08 Jan 1818 Jose Maria Vera
* Juan Jose Barrera b. 06 Jul 1800 m. 27 Jun 1826 Dorotea Montalvo
* Maria Policarpo Barrera b. 30 Jan 1802
* Jose Miguel Barrera b. 06 Oct 1803
* Jose Calixto Barrera b. 20 Oct 1805
* Jose Simon Barrera b. 23 Aug 1807
* Jacinto Rogue Barrera b. 20 Aug 1809 m. 18 May 1834 Maria Concepcion Perez
* Maria Faustina Barrera b. 18 Oct 1811
* Jose Antonio Barrera b. 20 Jan 1814
* Jose Luis Barrera b. 28 Aug 1819
* Jose Manuel Barrera b. 4 Sep 1771 d. 25 Dec 1847 m. Maria Antonia Saenz b. 1778
m. 21 Aug 1820 Maria Esperidiona Guerra b. 21 Dec 1797
* Jose Eugenio Barrera b. 17 Sep 1794
* Maria Gertrudis Barrera b. 20 Feb 1797 m. 09 Nov 1816 Jose Felipe Almarez
* Martina Almarez m. 26 Nov 1842 Jose Prudencio de la Garza
* Jose Isidro Almaras m. Maria Trinadad Guerra b. 21 Jan 1835
* Jose Albino Almaras b. 21 Dec 1858
* Maria Silvestra Almaras b. 10 Jan 1860
* Maria Vicenta Almaras b. 04 Oct 1862
* Jose Eleuterio Almaras b. 03 Mar 1864
* Jose Ventura Almaras m. 26 Jun 1850 Maria Felipa de Jesus Barrera b. 10 Feb 1833
* Jose Norberto Barrera b. 04 Apr 1799
* Maria Juana Barrera b. 10 Jun 1801
* Maria Francisca Barrera b. 03 Dec 1803 m. 08 Jun 1822 Jose Victoriano Saenz
* Maria Candelaria Barrera b. 9 Feb 1806 m. Jose Julio Guerra b. 23 Dec 1801
* Jose Ramon de la Cruz Guerra b. 19 Sep 1825 m. 14 Oct 1858 Maria Josefa Barrera
* Simon Guerra b. 15 Mar 1827 d. 20 Mar 1827
* Cayetano Guerra b. 19 Jun 1828 m. 26 Nov 1856 Maria Francisca Javiera Saens b. 28 Mar 1843
* Jacinto Camorano Guerra b. 10 Feb 1844
* Jose Luis Guerra b. 01 Jul 1860
* Jose Matias Guerra b. 07 Mar 1863
* Cayetana del Refugio Guerra b. 19 Jun 1828 m. Romualdo Herrera
* Maria Albina Guerra b. 03 Mar 1831
* Maria Anastacia Guerra b. 28 Jan 1833
* Jose de Jesus Guerra b. 17 Feb 1835 m. Crisanta Garcia
* Jose Manuel Guerra b. 25 Dec 1856 d. 09 Jun 1915 m. Virginia Cox b. 1860 d. 24 Jan 1937
* Jose Victorino Guerra b. 07 Sep 1859
* Jose Tristan Guerra b. 13 Feb 1861
* Jose Jacabo Guerra b. 08 Dec 1862
* Maria Macedonia Guerra b. 05 Oct 1864
* Jose Francisco Guerra b. 5 Jan 1866
* Guillermo Guerra b. 02 Sep 1867
* Guadalupe Guerra b. 05 Jan 1872
* Jorge Guerra Barrera b. 12 May 1873
* Crisanta Guerra b. 20 Mar 1875
* Candelario Guerra b. 03 Aug 1876
* Maria Monica Guerra b. 06 May 1837
* Estefana Guerra b. 10 Aug 1840 m. Jesus Garcia
* Juliana Guerra b. 18 Feb 1845
* Maria de los Reyes Guerra b. 11 Jan 1855
* Severiana Guerra
* Carlos Guerra m. Maria Vicenta Guerra
* Jose de Jesus Guerra b. 29 Apr 1865
* Jose Francisco Barrera b. 14 Oct 1809 m. 22 Jan 1830 Maria Irinea Barrera b. 1813
* Maria Josefa Barrera m. 12 Feb 1862 Jose Francisco Guerra
* Jose Francisco Barrera m. 27 Oct 1861 Maria Tomasa Garcia
* Juan Antonio Barrera b. 19 Oct 1812 d. 20 Oct 1812
* Jose Pedro Barrera Flores b. 27 Nov 1813 m. 20 May 1842 Maria Guadalupe Flores
m. 13 Jan 1851 Maria de los Reyes Garcia
* Maria Jacinta Barrera b. 17 Aug 1854
* Maria Lucinda Barrera b. 06 Feb 1859
* Maria Melchora Barrera b. 18 Jan 1861
* Maria de Jesus Barrera b. 07 Jan 1817 m. 05 Sep 1832 Jose Eugenio Falcon
* Maria Luisa Barrera b. 29 Jun 1822 m. 10 Feb 1841 Jose Escolastico Guerra
* Jose Leocadio Guerra b. 10 Dec 1842
* Jose Teodoro Guerra b. 13 Nov 1843 m. 23 Feb 1865 Benarda Perez
* Benigna Guerra b. 02 Mar 1868
* Maria Guadalupe Guerra b. 11 Nov 1879
* Maria Estanislada Guerra b. 15 Nov 1846
* Maria Francisca Guerra b. 10 Dec 1848 m. 23 Jul 1864 Eulogio Ramirez
* Jose Alejo Ramirez b. 24 Sep 1867
* Maria Francisca Ramirez b. 18 Oct 1868
* Timona Ramirez b. 01 Apr 1870
* Agustin Ramirez b. 22 Sep 1871
* Vicente Ramirez b. 01 May 1873
* Romano Ramirez b. 09 Nov 1874
* Nazaro Ramirez b. 30 Jul 1879
* Maria Cresencia Guerra b. 25 Dec 1850
* Maria Preciliana Guerra b. 08 Jan 1853 m. 21 Aug 1866 Jose Francisco Barrera
* Ruperta Barrera b. 16 Apr 1869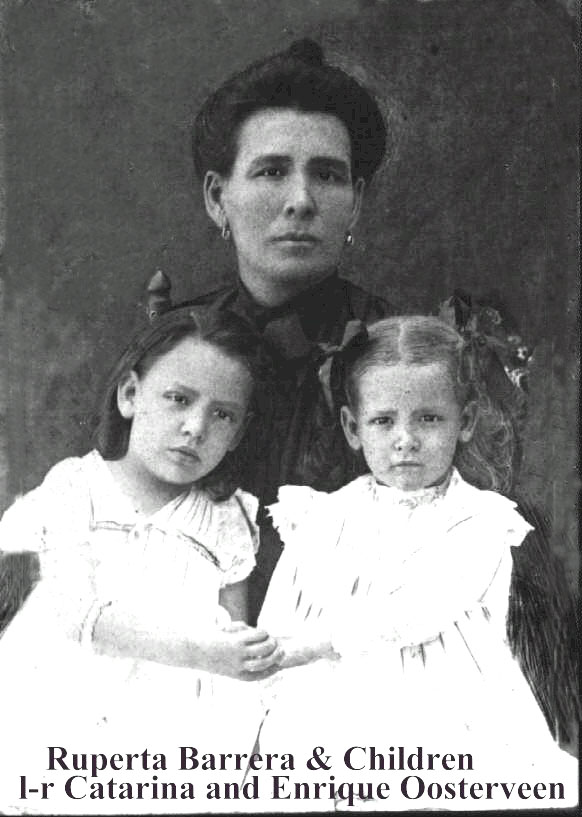 * Manuela Barrera b. 23 Jul 1870
* Leonardo Barrera b. 14 Nov 1871
* Miguel Barrera b. 18 Nov 1874
* Jesusa Barrera b. 17 Jan 1876
* Josefa Barrera b. 03 Apr 1879
* Juan Barrera m. 10 Jan 1904 Maria de Jesus Barrera
* Maria Angencia Guerra b. _____ d. 10 Oct 1853
* Maria Edmunda Guerra b. 02 Dec 1854
* Jose Pedro Guerra b. 29 Oct 1859 m. 05 Jul 1883 Macedona Guerra
* Juan de la Encarnacion Guerra b. 06 Apr 1864
* Jose Crisanto Barrera b. 23 Apr 1824 m. 19 Nov 1845 Maria Luisa Ramos
* Jose Eutemio Barrera m. 21 Sep 1870 Maria Crispina Garza
* Maria Dominga Barrera b. 08 Aug 1825 m. 08 Jun 1842 Jose Casimiro de Jesus Hinojosa b. 1821
* Eufrasia Hinojosa b. 11 Mar 1851 d. 3 Oct 1930 m. Jose Nicolas Barrera Gonzalez b. 05 Dec 1840 d. 21 Sep 1930
* Maria de la Santos Gonzalez b. 1869
* Maria de los Delores b. 22 dec 1876 d. 11 Oct 1957
* Arcadia Gonzales Hinojosa b. abt 1873
* Benito Gonzalez Hinojosa b. 1878
* Simona Gonzalez Hinojosa b. 1880
* Eustacio Gonzalez Hinojosa b. 1803
* Santiago Gonzalez Hinojosa b. 1886
* Francisco Gonzalez Hinojosa b. 1888
* Jose Tomas Hinojosa b. 23 Dec 1856
* Jose Lucas Hinojosa b. 22 Oct 1859 m. 14 Mar 1886 Maria Simona Barrera
* Jose Florencio Hinojosa b. 30 Oct 1862
* Maria Mustia Hinojosa b. 22 Jun 1865
* Camilo Hinojosa m. 28 Nov 1865 Paula Pena
* Dionacio Barrera b. 25 Dec 1826 d. 21 Oct 1827
* Maria Petronila Barrera b. 17 Feb 1828 d. 1895 m. 10 Feb 1849 Jose Hilario Galindo
m. Jose Juan Guerra 16 Nov 1849 m. 11 Sep 1856 Jose Julian Guerra Hinojosa b. 17 Jan 1826 d. 1897
* Jose Francisco Guerra b. 25 Dec 1859
* Jose Maria Guerra b. 02 Sep 1861
* Jose Benito Guerra b. 03 Apr 1863
* Juan de los Santos Guerra b. 03 Apr 1863
* Jose Prudencio Barrera b. 22 May 1830 m. 06 Aug 1856 Maria Serapina Guerra b. 17 Nov 1836
* Maria Luisa Barrera b. 27 Jun 1857
* Jose Luis Barrera b. 27 Aug 1859
* Jose Fernando Barrera b. 05 Jun 1862
* Maria Juana Barrera b. 09 May 1864
* Maria San Juana Barrera b. 12 Feb 1866
* Manuel Barrera b. 29 Apr 1868
* Estefana Barrera b. 18 Aug 1873
* Augustea Barrera b. 13 Oct 1875
* Jose Refugio Barrera b. 06 Jul 1833
* Maria Anastacia Barrera b. 02 Mar 1835 d. 02 Aug 1893 m. Geronimo de Jesus Guerra b. 05 Oct 1830
* Jose Dionicio Guerra b. 12 Apr 1857 m. 11 Nov 1880 Maria Guerra
* Jose Juan Guerra b. 09 May 1858
* Jose Valentin Guerra b. 17 Feb 1858
* Jose Lucio Guerra b. 28 Dec 1860
* Jose Francisco Guerra b. 05 Dec 1862
* Jose Salome Guerra b. 30 Jul 1864
* Maria Pilar Guerra b. 14 Oct 1866
* Celestina Guerra b. 28 May 1869
* Maria Juana de la Cruz Barrera b. 29 Nov 1836 m. 25 Jan 1856 Jose Juan de la Garza
* Jose Dario de la Garza b. 22 Dec 1856
* Maria Margarita Garza b. 23 Feb 1859
* Maria Tomasa Barrera b. 05 Jan 1839 m. 12 Jan 1863 Jose Maria Aguilar
* Maria Marta Aguilar b. 18 Nov 1863
* Jose Miguel Barrera b. 10 May 1841 m. Isidra Garcia
m. 04 Jan 1863 Maria Encarnacion Guerra b. 13 Apr 1846
m. Maria Salome Guerra b. 01 Oct 1843
* Jose Mastrirrano Barrera b. 29 Jan 1861
* Francisco Barrera Guerra b. 25 Feb 1865 m. Maria Del Pilar Gutierrez b. 02 Mar 1876
* Amelia Barrera Guerra b. 19 Apr 1892 d. 25 Aug 1982 m. 15 Aug 1914 Rafael Ramirez b. 24 Oct 1882 d. 30 Jun 1930
* Virginia Barrera Guerra m. Edward Gaja Saunders
* Horacio Barrera Guerra m. Margarita Urias
* Servando Barrera Guerra
* Francisco Barrera Guerra Jr. m. Aurora Zertuche
* Manuel Barrera Guerra m. Bertha Benavides
* Lidia Barrera Guerra m. Agustio O. Champion
* Aurora Barrera Guerra m. Louis F. Castro
* Rafaela Barrera Guerra b. 03 March 1867 d. 19 Nov 1959 m. 10 Apr 1887 Jose Esteban Guerra Guerra b. 14 Aug 1862
* Jose Guerra Barrera b. 26 Nov 1888 d. 26 Aug 1935 m. 24 Sep 1915 Guadalupe Gonzalez Leal b. 20 Jun 1892 d. 18 Jul 1986
* Encarnacion Guerra b. 10 Dec 1892 d. 12 Jul 1980
* Flavia Guerra b. 28 Feb 1895 d. 19 Dec 1979 m. Edward S. Dougherty b. 18 Jul 1882 d. 27 Jan 1934
* Martin Guerra
* Umberto Guerra m. Cleotilde Gonzalez
* Jose de los Santos Barrera Guerra b. 27 May 1869
* Rosendo Barrera Guerra b. 18 Oct 1870 m. Virginia Rodriguez
* Edmundo Barrera Guerra
* Anibal Barrera Guerra
* Ocampo Barrera Guerra
* Rosendo Barrera Guerra
* Aristides Barrera Guerra
* Miguel Barrera Guerra b. 21 Jun 1875 d. 13 Apr 1916
* Enrique Barrera Guerra b. 06 Aug 1876 m. Baudilia Hinojosa Hinojosa
* Fadrique Barrera Guerra m. Margarita Hernandez
* Ysabel Barrera Guerra m. Ygnacio D'Nalli
* Aurora Barrera Guerra b. 11 Apr 1903 d. 12 Dec 1997 m. Lauro Garza
* Rosenda Barrera Guerra m. Abel Dreumont
* Clemencia Barrera Guerra b. 10 Dec 1879
* Armando Barrera Guerra b.19 Dec 1883 m. Amelia Resendez
* Jose Tomas Barrera b. _____ d. 04 Nov 1849
* Jose Antonio Barrera m. 1803 Maria Josefa Ramos
* Jose Eugenio Barrera b. 23 Sep 1803
* Clara Barrera m. 24 May 1830 Jose Joaquin Ramirez
* Jose Antonio Barrera m. 25 Nov 1830 Maria Juana Salinas
* Maria Rita de Jesus Barrera b. 30 Jan 1774 m. 10 Jan 1798 Jose Maria Escobar b. abt 1752
* Maria Juana Escobar b. 28 Nov 1798
* Jose Miguel Escobar b. 14 May 1800 m. 18 Aug 1830 Felipa Garcia
* Jose Manuel Escobar b. 11 Jan 1802 m. 27 Nov 1827 Petra Moreno
* Jose de Jesus de la Cruz Escobar b. 11 May 1804 m. 05 Oct 1829 Maria Isabel de la Garza
* Jose Antonio Escobar m. 28 Nov 1832 Maria Estanisla Vasquez
* Maria Magdalena Escobar m. 27 Nov 1833 Jose Luciano Naranjo
* Maria Juliana Escobar b. 23 Feb 1806
* Maria de los Dolores Escobar b. 07 May 1809
* Jose Prudencio Escobar b. 24 Nov 1811 m. 13 Nov 1834 Maria de los Santos Moreno
* Maria Catarina Barrera b. 24 May 1777 m. 23 Dec 1801 Jose Francisco Saenz
* Maria Leocadra Saenz b. 15 Dec 1805
* Pedro Nalosio Saenz b. 22 Jan 1812
* Pedro Jose Antonio Barrera b. 19 Dec 1779
* Jose Maria Saturino Barrera b. 13 Apr 1782 m. 01 Jun 1810 Maria Salvadora Olivares
* Maria del Carmen Barrera b. 29 Apr 1785 m. 09 Jun 1813 Jose Alejandro Guerra
* Maria Antonia Guerra b. 26 Jul 1814 d. 02 Sep 1815
* Jose Cesareo Guerra b. 03 Mar 1816 m. 23 Jan 1836 Maria Ramona Guerra b. 05 Sep 1819
* Jose Vicente Guerra b. 11 Apr 1837
* Dorotea de Jesus Guerra b. 08 Jun 1844
* Espiridiona Guerra b. 22 Dec 1851
* Maria Vicenta Guerra m. Carlos Guerra
* Jose de Jesus Guerra b. 29 Apr 1865
* Jose Pablo Guerra b. 11 Feb 1858
* Jose Francisco Guerra m. 12 Feb 1862 Maria Josefa Barrera
* Maria Josefa Guerra b. 17 May 1860
* Maria Balvina Guerra b. 03 Apr 1817 d. 06 Apr 1817
* Maria Luisa Guerra b. 24 Jun 1818 m. 09 Jan 1836 Jose Maria Landin
* Maria Cornelia Landin b. 17 Sep 1837
* Jose Luis Guerra b. 24 Jun 1818
* Maria Petra Guerra b. 12 Jun 1822 m. 18 Nov 1841 Jose Rafael Ramirez b. 15 Jul 1813
* Maria Antonia Guerra b. 12 Jun 1822
* Teodoro Guerra b. 04 Apr 1826 d. 06 Nov 1827
* Jose Narciso de Jesus Barrera b. 06 Nov 1787 m. 10 Feb 1812 Ana Maria Hinojosa
* Jose Leonardo Barrera m. 12 Jan 1846 Maria Estefana Hinojosa
* Gabriela Barrera b. 27 Mar 1853
* Juan Donaciano Barrera b. 01 Jun 1855
* Maria Magdalena Barrera b. 01 Aug 1857
* Maria Francisca Barrera b. 06 Feb 1860
* Jose Simon Barrera b. 11 Nov 1861
* Maria Demetria Barrera b. 15 Jan 1864
* Jose Zerapio Barrera b. 21 Sep 1866
* Maria Simona Barrera m. 14 Mar 1886 Jose Lucas Hinojosa b. 22 Oct 1859
* Jose Anselmo Barrera m. 26 Feb 1881 Maria de los Reyes Barrera b. 16 Jan 1848
* Jose Agustin Barrera b. 31 Dec 1812 m. Maria Josefa Guerra b. 30 Nov 1818
* Maria Luisa Barrera b. 29 Aug 1836
* Jose Lucas Barrera b. 26 Oct 1838
* Maria de los Santos Barrera b. 03 Dec 1839
* Jose Claudio Barrera b. 07 Nov 1841
* Jose Alejandro Barrera b. 01 May 1844
* Jose Anastacio Barrera b. 28 Jan 1814 m. Maria Rafaela Hinojosa
* Maria Matiana Barrera b. 12 Oct 1841
* Jose Pedro Barrera b. 05 May 1844
* Jose Sixto Barrera b. 28 Mar 1846
* Maria de los Reyes Barrera b. 16 Jan 1848 m. 26 Feb 1881 Jose Anselmo Barrera
* Jose Felipe Barrera Hinojosa b. 29 Aug 1851 m. 23 Apr 1887 Maria de los Angles Gutierrez b. 07 Oct 1856
* Paula Barrera Gutierrez b. 1888
* Luis Barrera Gutierrez b. 27 Aug 1889
* Liberto Barrera Gutierrez b. 17 Aug 1890
* Candida Barrera Gutierrez b. 02 Oct 1891
* Florentino Barrera Gutierrez b. 14 Mar 1893
* Virginia Barrera Gutierrez b. 23 Apr 1896
* Herlinda Barrera Gutierrez b. 1899 d. 1899
* Manuel Barrera b. 11 Feb 1853
* Maria Manuela Barrera b. 27 Apr 1854
* Jose Placido Barrera b. 24 Oct 1855
* Jose Nicolas Barrera b. 21 Dec 1858
* Jose Alberto Barrera b. 11 Nov 1862
* Maria Teresa Barrera b. 03 Sep 1815
* Maria Inez Barrera b. 04 May 1819 m. 20 Aug 1835 Jose Anselmo Hinojosa
* Maria Polonia Casiana Barrera b. 20 Aug 1823
* Jose Segundo Barrera b. 12 May 1825 d. 20 May 1825
* Maria Guadalupe Barrera b. 20 May 1790 m. 05 Nov 1812 Jose Nepomuceno Sais
* Juan Jose Cristano Barrera b. 10 Feb 1794

Leave a Note To Join or Contact our organization