The connections to these three family names, Resendez, Pena, Vela, have brought forth many interesting facts when researching. The author's paternal grandmother, Guadalupe Leal de Guerra was born in Mendez, Tamaulipas. Her mother, Guadalupe Gonzalez, passed away during her birth and she was cared for as an infant by grand aunts, Maria Felicita Aguirre de Resendez and her sister Cornelia Aguirre. Family tales of the husband of Maria Felicita, Crispin Resendez, peaked interest in finding more information on the Resendez family. It is a family legend that Crispin Resendez was killed by persons who wanted to steal cattle from his ranch in the Mendez area.

This Resendez family from Mendez Map Shown was established in the area when it was called La Laja. In this area there is another possible notable person that a Corrido was written about. El Corrido de Mariano Resendez is very well about a Contrabandista who was also killed by troops that were trying to prevent smuggling of Textiles into the area. The Corrido and a translation is also attached. This Mariano Resendez could very well be a first cousin of Crispin Resendez. After careful research and collaboration with noted Historian and researcher, Homero Vera, he also concludes the Corrido, might be about this person. It is noted in the Corrido that Mariano Resendez was killed in Mendez, Tamaulipas. The date of death recorded in the Corrido is not exactly matching to the data found on Mariano but it is close enough to make a good conclusion to being the same person. Writers of the rhymes of the Corrido sometimes change some facts to help carry the song. Further data on whether Mariano Resendez was actually killed by the authorities in Mexico has been questioned and new facts may come forth in new research. Here is a picture of a Pistol owned by Mariano Resendez the Contrabandista. It is a Hopkins and Allen, 44 Winchester pistol with engraving and chrome finish. This pistol was manufactured in Norwich, Connecticut. There is a date on the pistol of 1873. It is not known if this was the model number or date of manufacture. It is probably the date of manufacture. The pistol is currently owned by a grandson of the Contrabandista and his family.

Research into the ancestors of Crispin and Mariano brought out the possibility this same Resendez family might be related to the Resendez family from Camargo and Ciudad Mier, Tamaulipas. The attached map shows the distance involved in Ciudad Mier and Mendez and could the family have moved from their roots in the Mier jurisdiction to Mendez? Yes, is the conclusion, because it is revealed that Crispin was baptized in Ciudad Mier and shows the same grandparents as Mariano. There are facts revealed in the book The Family Tree, Seabury Papers, by Joel Rene Escobar that Crispin has a brother named Mariano and both are sons of Tomas Resendez Vera and Teodora Garza Cantu on page 269. It is very confusing because of the two Marianos that are first cousins but death records and marriage records reveal they are different persons.

Further examination of records from the descendant chart of Mariano Resendez point out that a brother of Juan Felipe Nepomuceno Resendez, Jose Gregorio Resendez, has a grandson, Librado Pena who marries Adeliada del Barrio in March of 1887. This Adeliada del Barrio has one son with Librado Pena, also named Librado Pena II and then the father dies in the tenth year of marriage to Adeliada. Librado's pedigree chart is attached and his picture with his wife Adeliada is also shown.

In building the Resendez family data base, it is noted, a maternal grandmother of Librado, Maria Gertrudis Vela, whose father, Jose Gregorio Vela, is also the father of her half sister Petra Vela de Kenedy, wife of Mifflin Kenedy, partner of Richard King. Petra Vela's maternal grandparents, Jose Nepomuceno Resendez and Maria Viviana de la Garza are also Librado's maternal great grandparents.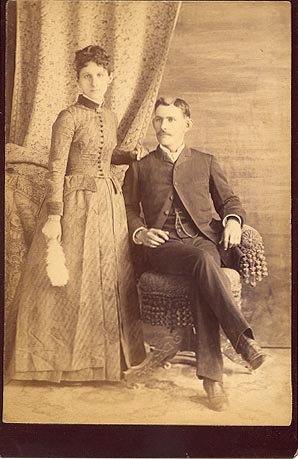 Adeliada del Barrio – Librado Pena
This wonderful picture was found in a house in Laredo, Texas by R. LaPerrière de Gutiérrez that was previously owned by the Medina Family. R. LaPerrière de Gutierrez tells the story on her webpage that Adeliada was later married to a Tomas Medina and [in 1896, Felix Fausto Medina del Barrio, is born 13 October 1897. Adelaida and Tomás had a brick house built (c. 1937) in the Azteca neighborhood (Barrio Azteca) in Laredo, on the lot just south of the property Pilarita owned since 1889. They were only able to enjoy it a very few years--Tomás died in 1942; Adelaida died at the end of March 1944. Felix F. Medina del Barrio married Alicia Magdalena Gutiérrez (b. in Guerrero, Tamaulipas) in June 1944. The Medina family continued living in the brick house until their respective deaths in1980 and 1995].
The webpage is found on the web at: Del Barrio Webpage placed by R. LaPerriere de Gutierrez has many more pictures of the Felix del Barrio and Pilarita Perez de del Barrio family and their children.
Many facts are bought out in researching, but there is always a chance that errors may be found as genealogy is always open to change when better facts are found. Research into the Petra Vela family was brought about because of the book, If You Love Me, You Will Do My Will by Hugh Aynesworth (Contributor), Stephen G. Michaud. In reading this book and its exciting court battles for Sarita Kenedy East's vast ranching estate ( 400, 000+ acres) before and after her death, that interest was heightened with her Hispanic ancestors. Never did the author believe that connections to Sarita would be encountered from reading the book. A pedigree chart on Petra Vela is included with this article and the connection to her Vela and Resendez ancestors. After attending a conference in Houston, Texas, a speaker, Ana Carolina Crimm, mentioned that her research on Petra Vela shows that her first husband was never married legally to her. Crimm also mentioned that Luis Vidal might not have been killed by Mifflin Kenedy's orders, a popular legend. These last facts are subject to great speculation and hopefully when her books are published it will be made clear.
The article includes a Family Group Sheet chart on Jose Gregorio Vela. It shows his two wives, Maria Josefa Moreno and Maria Josefa Resendez. The interesting fact here is that his second wife, Maria Josefa Resendez is the sister of his son in law, JoseGregorio Resendez who is married to Maria Gertrudis Vela. Jose Gregorio Vela marries Maria Josefa Resendez on 30 Jan 1812 and Jose Gregorio Resendez marries Maria Gertrudis Vela 26 May 1818. Both of these marriages are recorded in Mier, Tamaulipas. The second marriage of Jose Gregorio Vela to Maria Josefa Resendez is the union that produces Petra Vela. Information presented to the author that Jose Gregorio Vela's original ranch house is still standing in southern Jim Hogg County. There has been remodeling to the structure but it has stood ravages of time.
The results of research into these three families, Resendez, Vela and Pena have proven that members of families relocated and established their own Ranchos to better themselves and to raise families. Movement from the town of Ciudad Mier to Mendez seems maybe not so far in today's times by fast auto but in the early 1800's it took days to make the journeys with more primitive modes of transportation. Research also proves that intermarrying between Mexican landowner's daughters and arriving Anglo settlers was also happening. Fewer families in these early Mexican and Texas times produced kinship that are now being discovered which were known to these families in those early days.
References:
Family Tree Book, Seabury Papers, Transcribed by Jose Rene Escobar.
Spanish American Genealogical Association, Mier Church Marriage Records, Book of Brides.
S.A.G.A., Mier, Church Baptism Records Book 1, 2, 3.
S.A.G.A., Mier Church Death Records.
The Book of Mier Marriages, 1767-1805, Israel Cavazos Garza, Martha Migali Gonzalez.
Church of Jesus Christ of Latter Day Saints, Mier Marriages, Baptisms, Deaths, copied from Records of Israel Cavazos Garza. Microfilms: #1162855,1162854,1511691
If You Love Me You Will Do My Will, by Stephen G. Michaud, Hugh Aynesworth.
Family History of Capt. Miguel Sanchez Saenz and his Descendants, Joel Rene Escobar y Saenz.
Corrido of Mariano Resendez, El Dueto Los Alegres de Teran.
Discussions with Homero Vera, Premont, Texas, on the Resendez – Vera Family.
Discussions with Xavier Sendejo, Lake Jackson, Texas on the Pena Family.
Mendez Records of Rodrigo Resendez Guerra Microfilm # 1708822 , submitted to the Church of Jesus Christi of Latter Day Saints.
Discussion with R. LaPerriere de. Gutierrez on Felix B. del Barrio Family and collection of photographs.
Discussions with Fernando Resendez (Grandson of Mariano Resendez, El Contrabandista)
Discussions with Baldomero Vela, Jr. on the Resendez Family.
Author:
Jose O. Guerra, Jr.
Houston, TX 77090
E Mail: joguerra@hispanicgs.com




Descendants of: Jose Bartolome Resendez
* Jose Bartolome Resendez m. Maria Agueda Trevino
* Maria Guadalupe Resendez m. 20 Aug 1788 Jose Maria Vera
* Jose Mariano Vera m. 23 Jan 1812 Maria Antonia Garcia
* Jose Nepomuceno Resendez m. 20 Aug 1788 Maria Viviana de la Garza
* Maria Juana Gertrudis Resendez b. _____ d. 30 Apr 1789
* Juan Felipe Nepomuceno Resendez b. abt 24 Aug 1790 m. 27 Oct 1810 Maria Gertrudis Vera
* Tomas Vera Resendez b. abt 1814 m. 20 Feb 1838 Teodora Garza,Cantu d. 04 Jan 1906
* Mariano Resendez,Garza b. abt 1840 d. 07 Mar 1887 m. Teresa Salinas
* Rafael Garza Resendez b. abt 1844 d. 15 Feb 1901 m. Leonor Palacios
* Torivia Garza Resendez b. abt 1846 m. Alejo Aguirre
* Teodora Garza Resendez b. abt 1848 m. Juan Manus Vera
* Crispin Resendez b. abt 1849 d. 17 Jan 1907 m. 03 Oct 1877 Maria Felicita Aguirre b. abt 15 Apr 1853 d. 18 Apr 1934
* Camila Resendez b. 1878 d. 15 Feb 1925 m. 17 Dec 1897 Eliseo Leal b. abt 1873
* Elosia Resendez b. 07 Dec 1879 d. 29 Sep 1925 m. 03 Aug 1898 Leopoldo Guerra b. abt 1876 d. 09 Mar 1899
* Tomasa Resendez b. 07 Mar 1882 d. 10 Mar 1965 m. Ignacio Leal
* Arcadio Resendez b. 06 Jan 1884 d. 05 May 1941 m. Blasa Garcia
* Epifanio Resendez b. 07 Feb 1886 d. 26 Sep 1954
* Esiquio Resendez b. 18 Nov 1888 d. 22 Oct 1963 m. Maria de Jesus Salinas
* Maria Filonenia Resendez b. 13 Jul 1891 d. 12 Apr 1971 m. Ramon Hinojosa
* Gabriel Resendez b. 18 Mar 1894 d. 15 May 1960 m. 20 Feb 1921 Julia Amador Guerra b. 18 Oct 1899 d. 07 Sep 1978
* Marin Resendez b. 18 Jul 1894 d. 05 Mar 1945 m. Belen Palacios
* Maria Antonieta Resendez b. 13 Jun 1898 d. 26 Dec 1975 m. Jose Resendez
* Juan Nepomuceno Resendez b. abt 02 Sep 1822
* Mariano Resendez b. 1827 m. Nazaria de la Garza
* Mariano Resendez (Contrabandista) m. Concepcion Melendez
* Mariano Resendez m. Manuela Pena
* Jose Resendez m. Maria Antonieta Resendez b. 13 Jun 1898 d. 26 Dec 1975
* Maria Hilaria del Refugio Resendez b. abt 25 Jan 1799 m. 05 Jul 1830 Jose Maria Saenz
* Maria Guadalupe Resendez m. 04 Sep 1826 Jose Adeodato Vivero
* Maria Josefa Resendez m. 30 Jan 1812 Jose Gregorio Vela
* Maria Antonia Vela m. 29 May 1833 Jose Esteban de la Garza
* Jose Antonio Vela b. abt 10 Sep 1815
* Jose Lucas Vela b. abt 21 Oct 1816
* Maria Petra Vela b. abt 03 Feb 1823 d. 1885 m. Luis Vidal
m. Mifflin Kenedy
* Louisa G. Vidal
* Rosa Vidal
* Concepcion Vidal
* Maria Vicenta Vidal
* Adrian Vidal
* Thomas M. Kenedy b. 1853 d. 1888
* James Kenedy b. 1855 d. 1884
* John Gregory Kenedy b. 1856 d. 1931
* Sara Josephine Kenedy b. 1857 d. 1918
* William Kenedy b. 1859 d. 1876
* Phobe Kenedy b. 1860 d. 1876
* Francisco Vela b. abt 12 Jun 1829
* Jose Pedro Vela b. abt 01 Jun 1825
* Jose Cipriano Vela b. abt 29 Sep 1827
* Maria de los Angles Vela b. abt 04 Aug 1833
* Maria Juana Romualda Vela b. abt 09 Feb 1836 d. 09 Feb 1836
* Jose Manuel Antonio Resendez b. abt 24 Jun 1803
* Maria Gertrudis Resendez b. abt 20 Nov 1805 m. 05 May 1825 Jose Francisco Garcia
* Jose Rafael Resendez b. abt 18 Jul 1808 m. 28 Feb 1843 Maria Gertrudis Garcia
* Maria Faustina Resendez b. abt 15 Feb 1811 m. 07 Jan 1835 Jose Agapito Fernandez
* Jose Francisco Resendez b. abt 27 Feb 1813
* Jose Gregorio Resendez b. _____ d. 16 Jun 1876 m. 26 May 1818 Maria Gertrudis Vela d. 21 Sep 1889
* Jose Esteban Resendez b. abt 03 Aug 1840 m. Maria del Carmen Guerra b. 16 Feb 1846
* Abraham Resendez b. _____ d. 1890 m. Victoria Johnson
* Guadalupe Resendez m. Josfa Ramirez
* Ofelia Resendez
* Constancia Resendez
* Ygnacia Resendez m. Jose Reyes Manto
* Aida Resendez m. Mariano E. Salinas
* Emilio Resendez b. _____ d. 24 Oct 1930 m. 24 Oct 1913 Isabel Guerra
* Damasio Reyna Guerra
* Josefa Resendez m. Jose Maria Lozano
* Amelia Resendez b. 1886 d. 1968 m. Jose Armando Barrera Guerra b. 1884 d. 1966
* Arnoldo Armando Barrera Guerra b. 05 Apr m. Elodia Pacheco
m. Bertha Dosal d. Oct 2002
* Alicia Barrera b. Jun 12 m. Jose Luis Sarabia
* Abiel Barrera Guerra m. Mary Lou McComb
* Amelia Amparo Barrera m. Ubaldo Barreda
* Alberto Barrera Guerra m. Ninfa Cisneros
m. Sylvia
* Alfredo Barrera m. Maria
* Adelina Adela Barrera b. 05 Apr 1921 m. John Piccolo
* Armando Guadalupe Barrera Guerra b. 1927 m. Margaret
m. Mary Jane Sino
* Maria Faustina Resendez b. abt 20 Mar 1832 m. Jose Antonio Pena b. Abt 17 Jan 1809 d. 08 Jun 1894
* Pedro Resendez b. abt 03 Feb 1820 d. 15 Dec 1888 m. Maria de Jesus
* Maria Victoria Resendez b. abt 17 Jun1838 d. 1876 m. Pioquinto Pena
m. Manuel Benavides
* Librado Pena b. _____ d. 05 Jun 1897 m. Mar 1887 Adelaida de Barrio b. 01 Dec 1869 d. 30 Mar 1944
* Librado Pena de Barrio b. 12 Nov 1891 d. Jan 1973 m. Maria de los Angles Dodier b. 1890 - 1892 d. Jan 1974
* Gumecinda Pena m. Clarence B. Hastings
* Wallace Hastings
* Nellie Hastings
* Clarence B. Hastings, Jr.
* Enrique Hastings
* Lucia Pena
* Leonides Pena m. Clarence B. Hastings
* Zenon Pena
* Jose Ramon Resendez b. abt 02 Aug 1818 d. 09 Aug 1818
* Juan Jose Resendez b. abt 29 Dec 1845 d. 20 Feb 1847
* Jose Hilario Resendez b. abt 19 Jan 1830 d. 25 Jan 1834
* Maria Cecilia Resendez b. abt 28 Nov 1833 d. 20 May 1854
* Maria Victoria Resendez b. abt 14 Apr 1836
* Nicolas de Jesus Resendez b. abt 08 Dec 1822
* Juan Jose Resendez b. abt 19 Feb 1825
* Maria Paula Resendez b. _____ d. 01 Oct 1843
* Jose Rafael Resendez m. 01 Dec 1798 Maria Gregoria Barrera
* Jose Aniceto Resendez m. 11 May 1853 Maria Gertrudis Garcia